PROCLAMATION AND CERTIFICATE OF APPRECIATION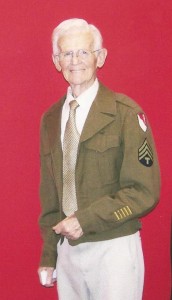 Joseph W. Miller (Photo taken October 21, 2011)
Jerry Pierce, CFVMPF Chairman, presented a Proclamation and Certificate of Appreciation to Barbara Miller in honor and memory of her husband, Joseph W. Miller.
Joe proudly served as the first official photographer of Central Florida Veterans Memorial Park Foundation, Inc.  His meticulous and caring photography for over four years captured the essence of  the life of the Foundation.
The Proclamation also recognized his service as a member of the 36th engineer regiment during multiple landings during D-Day campaign. 
Joseph's warm and friendly smile will forever by missed. 
Presented to his loving wife, Barbara, children and grandchildren signed by Jerry W. Pierce, Chairman and BG Stephen M. Seay USA (Ret), President.
Photo Shown Below – October 21, 2011, left to right, Jerry Pierce and Steve Seay of CFVMPF being presented a check from Randy Parks, President of Central Florida Auto Dealers Association and Barbara Miller, Executive Vice President,  for the Memorial to be built at Lake Nona adjacent to the VA Medical Center.